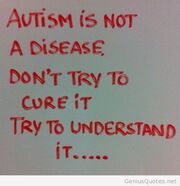 Welcome to Autism Wiki! Now merged with the Asperger and Exposing Neurodiversity Wikis.
A wiki is a website that's created by the people who use it. Autism Wiki is a place where people with Autism and Asperger's, and the people who care about them, can share their stories and build a database of helpful information.
If this is your first time on a wiki, then the first step is to create a user name -- it's free, and it only takes thirty seconds. As of January 21, 2016, you can no longer edit as an anonymous IP. Then visit the sandbox to try out your first edit! If you want to substantively edit an article please go to the talk page of the article first to present your proposed changes.
There are some rules to follow;
Autism and Autistic should be put with a capital A. If there are any that have been missed you are welcome as a member to correct that. Remember though that it should be in the content and not the links as it will break said links.
All controversial claims need to have a source. This is an important aspect of this Wikia as it is on Wikia.org and not Fandom.com. Sourcing doesn't have the same restrictions as Wikipedia as blogs, Facebook, Twitter and so forth are permitted.
Any substantive changes to any existing articles need to be discussed before being added.
With a few localised exceptions, spelling in British/Australian English is used on this Wikia. If an article is specifically about the United States or Canada however, American English should be used.
This is a positive place. Articles about organisations and people who have done bad things in relation to Autism are not permitted. There is an article Unreliable sources that covers for this and that alone.
Also, there will be no additions of any content that amounts to hate speech against the Autistic community - for instance no claims of environmental causation will be allowed, including but not limited to vaccine inducement, gluten, Vitamin K, GMO's and so on. The addition of such content is subject to a block for a time depending on the gravity of the violation.
Should you be blocked for any period of time you MUST sit out the block. Any attempt to return with a different account before the block has ended in order to sidestep the penalty will result in a permanent ban from this Wikia.
Community content is available under
CC-BY-SA
unless otherwise noted.