I'm Woybff, if you don't remember me. I not talking about Autism today. I'm talking about the wiki. I haven't made a blog post since Feb.28th,2015 and I come back to see. All this radicalism on the home page. Why? It nothing to do with Autism. This wiki is NOT a web site for bullying. This is for telling people about Autism. I proud to be autistic. Am I going to move to a new web site to write my blogs. I try really hard. I am now back, why you members call other people ***? I throught it would quite when I return. I beg please stop this.
I maybe was going to talk about Autism Speak being bad. But I guess I never throught of this wiki going to a swearing network after also five months. I may move. Thank you  for taking the time to read. Please comment why this has to be like this.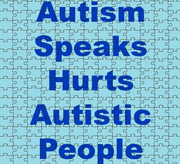 Community content is available under
CC-BY-SA
unless otherwise noted.